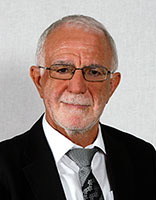 As the Mayor of Athienou, I would like to address the visitors of our website, my fellow citizens and all else, sending them my most cordial and warm greetings.
The semi-occupied Municipality of Athienou, suffering from the unlawful occupation of its land for over 44 years, is struggling all this time to overcome the difficulties and upgrade its living standards under adverse conditions.  A tough effort, considering the economic crisis that struck our country the last years. Nevertheless, the citizens of Athienou, known for their creativity and hard work never abandon the effort for development and prosperity.
As the Mayor, along with the Municipal Council, we want to increase even further the sense of optimism and positivity of the citizens of Athienou. United and far from political and other controversies, we will fight with zeal, we will claim what our Municipality is entitled to and we will try to elevate progress and growth, something we have been deprived of in previous years.
For the success of the above all citizens are needed to contribute, each one in their own way.  The Municipality Council, together with the Municipality's services, the political parties and the excellent youth of Athienou, will work hard for realizing the vision of transforming Athienou into a small modern city.
Having shared these few thoughts, I would like to welcome you to the website of the Municipality of Athienou. Our efforts are to continuously upgrade it and any suggestions for improvement are more than welcome.
Kyriakos Kareklas
Mayor of Athienou
Mobile: 99667907
CURRICULUM VITAE OF MAYOR KYRIAKOS KAREKLAS
Mr. Kareklas was born on 11/01/1957 and is the son of Kostas and Maria Karekla. He is married to Chrysoula Tambliou and they have three children, Constantinos, Petros and Elena.
He is a graduate of the Pancyprian Gymnasium of Nicosia. He obtained a bachelors degree in Civil Engineering in 1981 followed by a postgraduate degree in 1982, from the CITY COLLEGE OF THE CITY UNIVERSITY OF NEW YORK with specialization in "construction works". He graduated with the highest distinction (general grade 3.86 from 4.00) with various awards, as the 2nd best student of the University in 1981 and continuously studying under scholarships he received because of his exceptional performance. While studying for the master's degree (1981-1982), he also successfully worked with the New York Metropolitan Transportation Authority (NYC MTA) as a Civil Engineer. In October 1982, he was employed by MEDCON in Cyprus as the lead engineer of the earthworks division of the company for the construction of the Nicosia – Limassol highway and the Kalavasos Dam. From 1983 to December 2016 he worked in the District Administration of Larnaca as "Head of Technical Services" of the Central Service for Larnaca Community Councils.
He has developed intense professional activity and he is appreciated for his work and his honesty by all Local Authorities of Larnaca. Many important projects in Larnaca bear his own stamp, in various communities including: Kiti (Angeloktisti Park, community buildings, the central square, flood protection solutions ), Pervolia (cultural hall, main square, flood protection solutions), Xylofagou (central square, pedestrian street chapel, flood protection solutions), Livadia (parks, major roads overhaul, flood protections solutions), Voroklini (old neighborhood reconstruction, parks, parking lots, flood protection solutions) and in many other communities and municipalities of the Larnaca District.
Since 1998 he was involved in European projects through the Union of Communities of Larnaca. From 15/06/2004 until the end of 2005, with the approval of the District Officer of Larnaca, he was assigned as the temporary Director of the Larnaca District Development Agency, with intense activity. He participated in the efforts to set up the Association of Women of Rural Larnaca and helped to approve the Larnaca District Development Agency as a Local Action Group (in relation to the LEADER program) and to realize its participation in many European Competitive Programs, that brought added value across the district.
He has very good relationships and has many partners in European Organizations, Development Agencies and Municipalities throughout Europe and has participated in many meetings, conferences and workshops in Greece, Italy, France, Spain, Portugal, Belgium, Denmark, Finland, Malta, Bulgaria, Zarzis of Tunisia and elsewhere.
In 2014, during workshops held in Samos and Heraklion of Crete, he represented Cyprus and was the spokesperson presenting the topics "How District Administrations deal with extreme weather conditions in Cyprus" and "The situation of water usage in Cyprus".